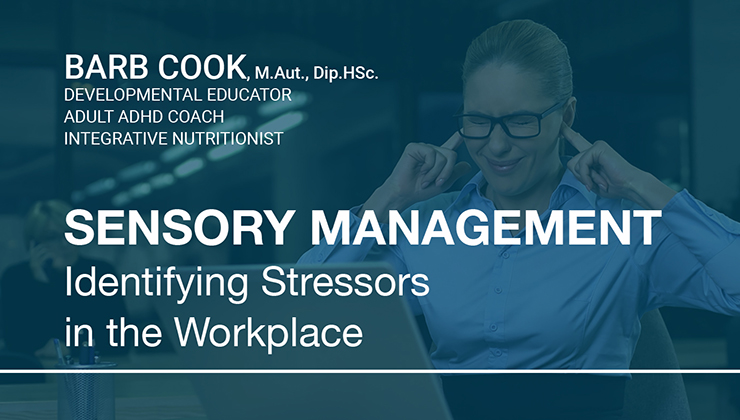 Sensory Management - Identifying Stressors in the Workplace
About this course
A Certificate of Completion for 1.5 hours professional development will be available for you to download upon completion of this course. 
Neurodivergent people often experience difficulty with processing sensory information, either being hypersensitive or hyposensitive. In the workplace, many sensory factors can negatively impact on individuals' work performance and contribute to increased levels of stress, anxiety and mental overwhelm. Being subjected to sensory assault on a regular basis can also impact wellbeing through physical pain, leading to changes in behaviour, withdrawal or meltdown.
This webinar will explore the potential causes and sources of sensory assault in the workplace, how to make workplace modifications and what supports can assist the individual in reducing their sensory overwhelm. This webinar will also investigate how employers can improve workplace design cost effectively, providing sensory friendly working conditions for all employees.
This webinar provides valuable insights, tools and strategies for neurodivergent people, co-workers, workplace supervisors and management, employers, employment agencies, parents, teachers and support staff.
Enroll Today!
Get started now
Sensory Management: Identifying Stressors in the Workplace

Recommended Readings (Books)
$39.00

1.5 hours of video content

Certificate of Completion for 2.5 Hours Professional Development

30 Days to complete course
Grow your knowledge, starting today



Barb Cook, M.Aut.(Ed), Dip.HSc.(Nut)



Developmental Educator, Integrative Nutritionist & Adult ADHD Coach
Barb Cook is a highly committed autistic advocate, writer, editor, and highly sought-after international speaker. She has made appearances on Australian radio and television, in newspapers and magazines, and in the SBS television documentary The Chameleons: Women with Autism.
Barb is a registered Developmental Educator, Adult ADHD Coach and Integrative Nutritionist, who is dedicated to improving the overall well-being and quality of life for neurodivergent people. Barb identifies a neurodivergent after being diagnosed mid-life (40) and after significant burnout in 2009 with autism, ADHD, and dyslexia.
Barb is internationally recognised for her bestselling book on autism in women, Spectrum Women: Walking to the Beat of Autism with Dr Michelle Garnett, filling the gap in literature between lived experience of autistic women and the clinical knowledge. Barb's recently released and second best-selling book co-authored with Yenn Purkis, The Autism and Neurodiversity Self-Advocacy Handbook: Developing Skills to Determine Your Own Future, is an essential guidebook that gives you the tools and strategies to advocate for yourself in any situation, developing your skills in standing up for yourself, your needs and wishes.
Barb is founder of Spectrum Women Magazine and is a prolific writer on autism, ADHD and neurodivergence.
Barb is founder of the Neurodiversity Hub in Gympie Queensland, a space providing allied health services for neurodivergent people, including one-on-one support, therapeutic groups, workshops and presentations and an informal space to meet.
Barb is a highly sought-after international speaker and presents on a variety of topics related to women, autism, ADHD and Neurodiversity. Barb spoke at the World Autism Organisation Congress 2018 in Houston Texas and 2019, and was invited by the United States government to keynote a special event "A Woman's Voice: Understanding Autistic Needs" for the National Institute of Mental Health (NIHM) in Washington DC, USA.
Barb is a passionate motorcyclist, and enjoys riding the love of her life, Ron Strom Burgundy, a Suzuki VStrom DL1000, who assists her with good self-care and an effective anxiety reducing and depression busting practice.
Visit www.neurodiversityhub.com/barb-cook/ and www.barbcook.com.au to learn more about Barb Cook.